Have you ever played in a Casino? Do you know the feeling of making a prediction and winning it all? What if I told you that there's a platform that works better than a casino. Yes, much better. Why? Every transaction is provably fair! This means that the odds and the game mechanism itself can be verified in the code. The platform is called WINk, the #1 DApp on the whole blockchain ecosystem. If you are a casino player or a developer, this article should be of interest.
WINk PLATFORM
WINk, previously known as TronBet, is a Casino platform that is actually the #1 DApp on the whole blockchain ecosystem in terms of transaction volume, users, and performance according to Dapp.com. WINk has also partnered with multiple wallets in order to facilitate gameplay for most of their users. If that doesn't sound enticing, the platform has other partners like Binance, KuCoin, IDAX, TronTrade, TRXMarket, and many more. Wink or (WIN) token has been trading on Binance with a 24-hour trading volume of more than $4 million USD.
This platform counts with three main DApp categories: DICE, LIVE and RAKE.
| | | |
| --- | --- | --- |
| DICE GAMES | LIVE GAMES | RAKE GAMES |
| Dice | Slots | Poker |
| Moon | Table Games | |
| Ring | Live | |
| Duel | Sports | |
The platform is established under the laws of Curaçao. If you reside in a location where lottery, gambling, or betting over the internet is illegal, do not click on anything related to these activities on the site. You must be 21 years of age in order to play games. I will explain some of the most iconic games and features of the platform so you can see how fun and easy it is to play and bet on this platform.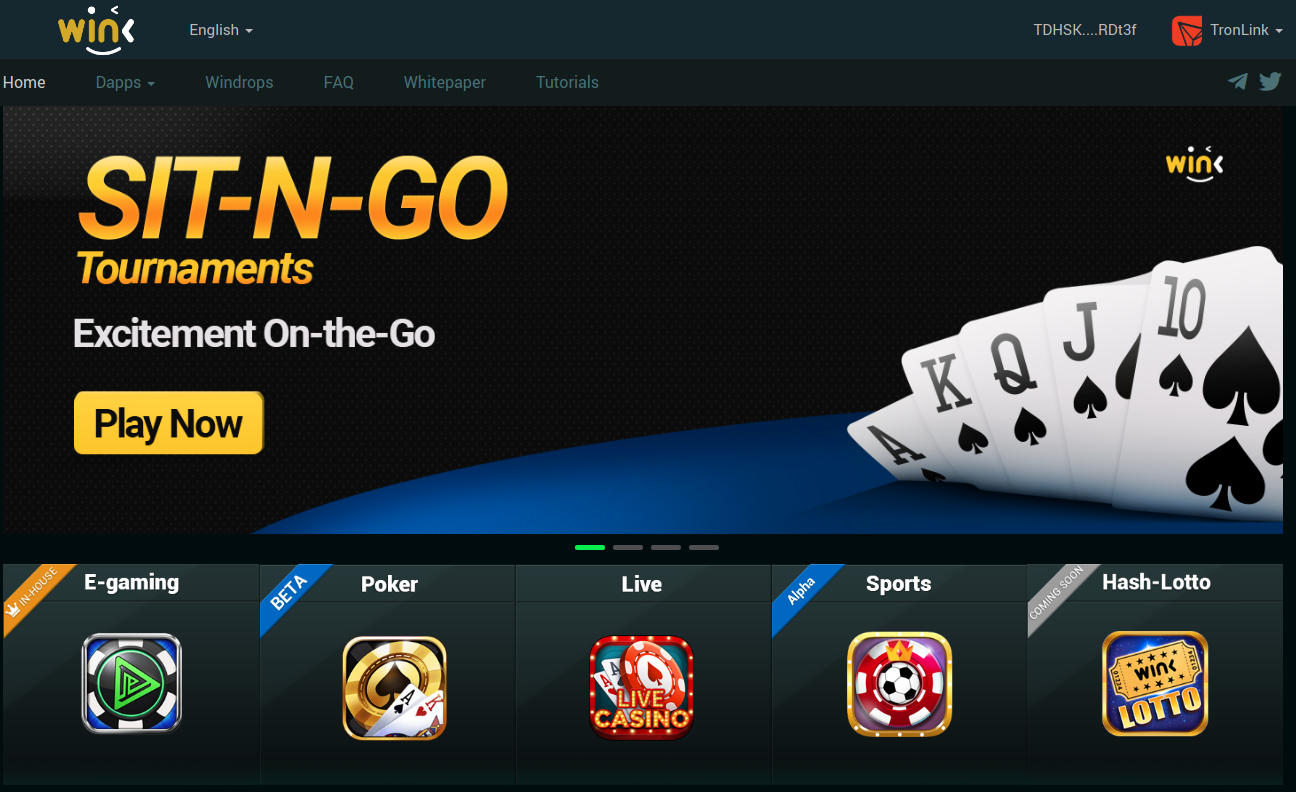 DICE GAME
It consists of a prediction number that can go from 4 to 98 if you roll over and  1 to 95 if you roll under. There is also a lucky number that can go from 0 to 99. The user must select a prediction number and choose to roll over or under that chosen number. Depending on the number the user chooses and the direction, the win chance in percentage will vary as well as the bet multiplier. The higher win chance percentage is 95% which multiplies 1.0368 times your bet.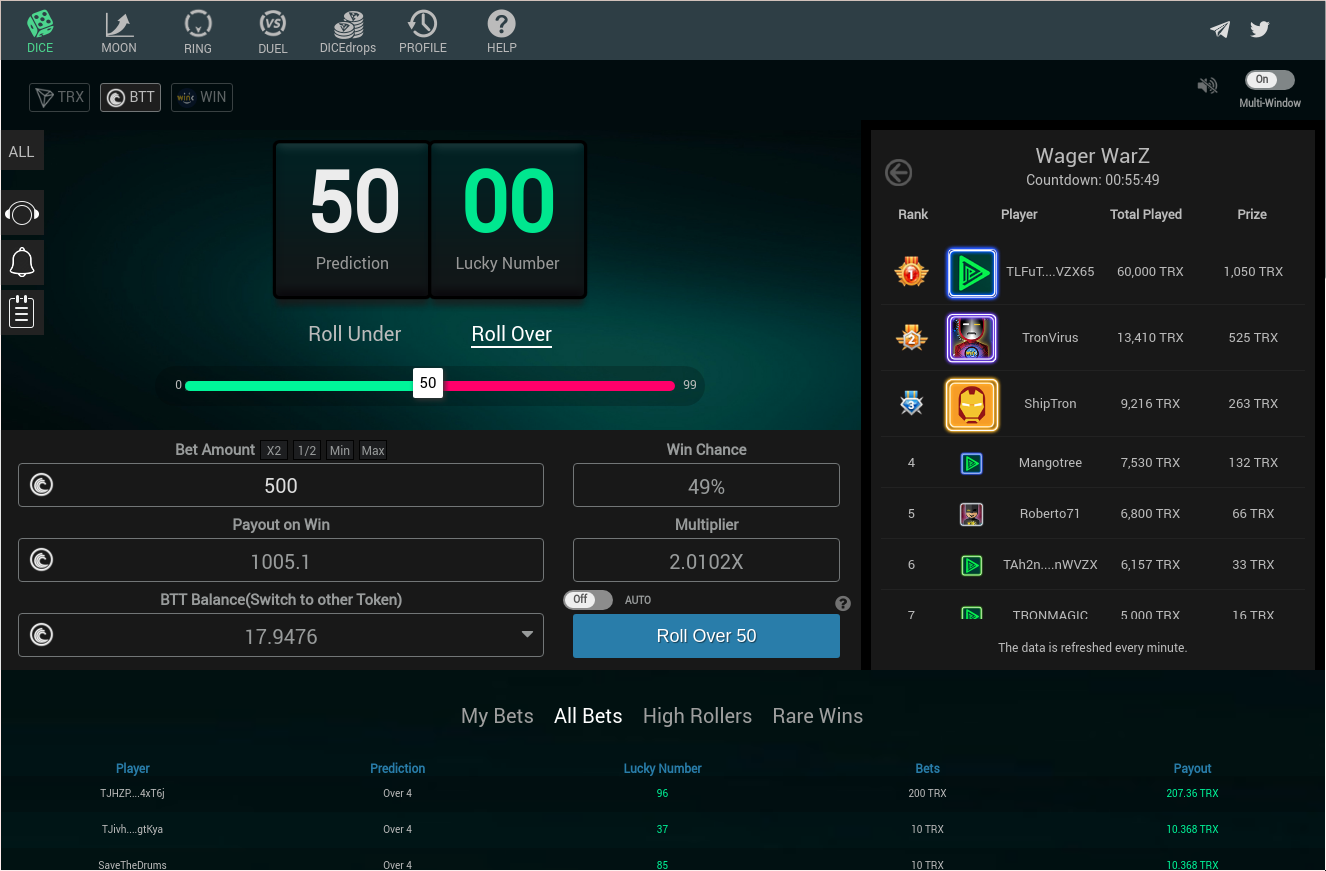 MOON GAME
Moon is a very fun game in which a multiplying line is constantly going up but that line can crash at any time. It is the user who decides when to stop the bet; the later you press stop the higher the multiplier. If the line crashes before you stop, you lose your bet. When the user manages to stop the bet in time, the amount won is equal to the amount bet times the multiplier.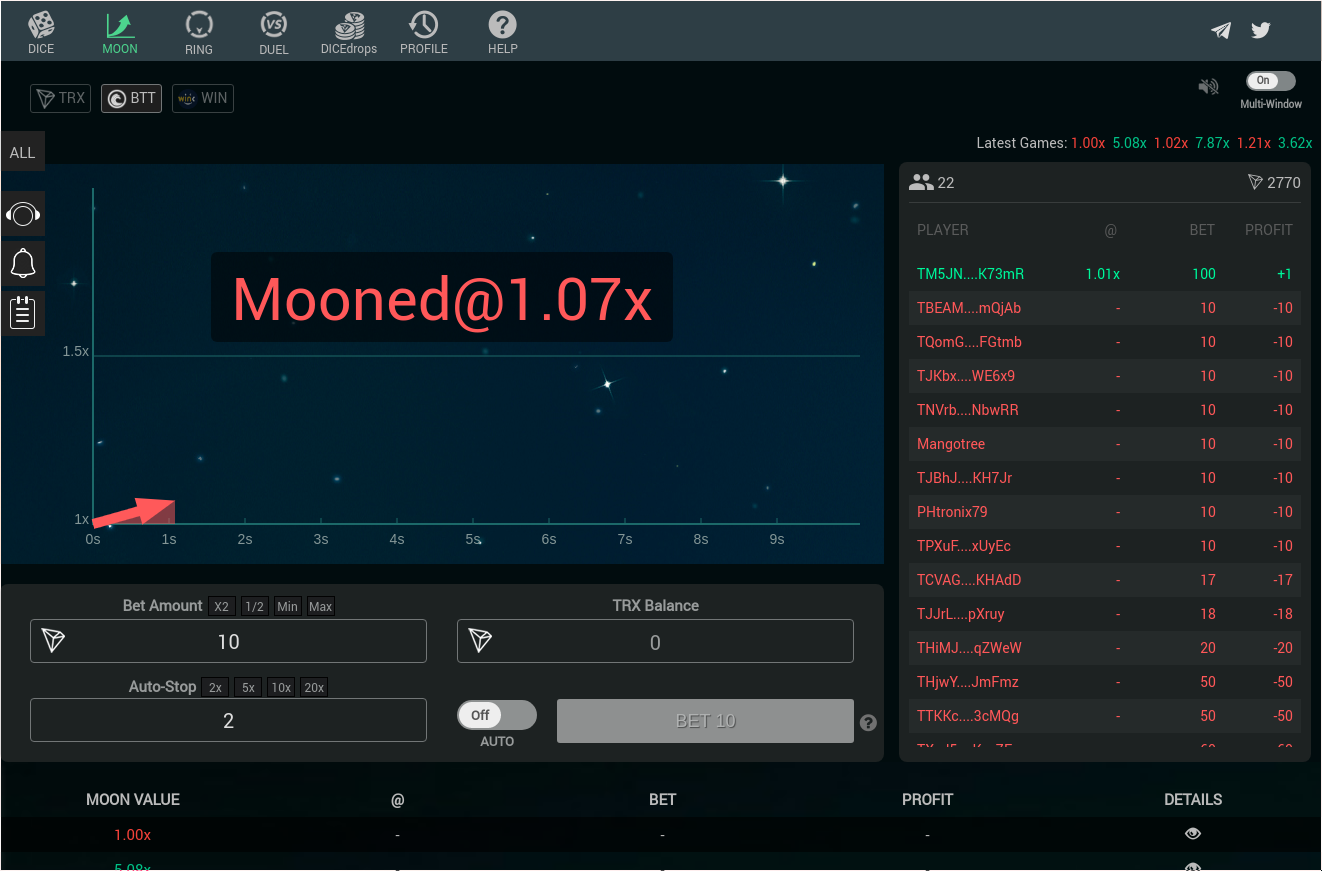 RING GAME
My favorite game so far is Ring. This game is a win-wheel filled with 4 colors in 54 segments. The colors indicate the bet multiplier. The colors are: grey (2x multiplier, 48% chance), red (3x multiplier, 32% chance), blue (5x multiplier, 18% chance), yellow (50x multiplier, 2% chance). As you can see, even though the yellow color has less chance of winning it can multiply your bet 50 times. Considering that the max bet on 50x is 2,400 TRX ($38 USD), if you win this color, you can make 120,000 TRX ($1900 USD)! Wow, that's a huge gain! Of course, you can also lose. But that is part of the thrill.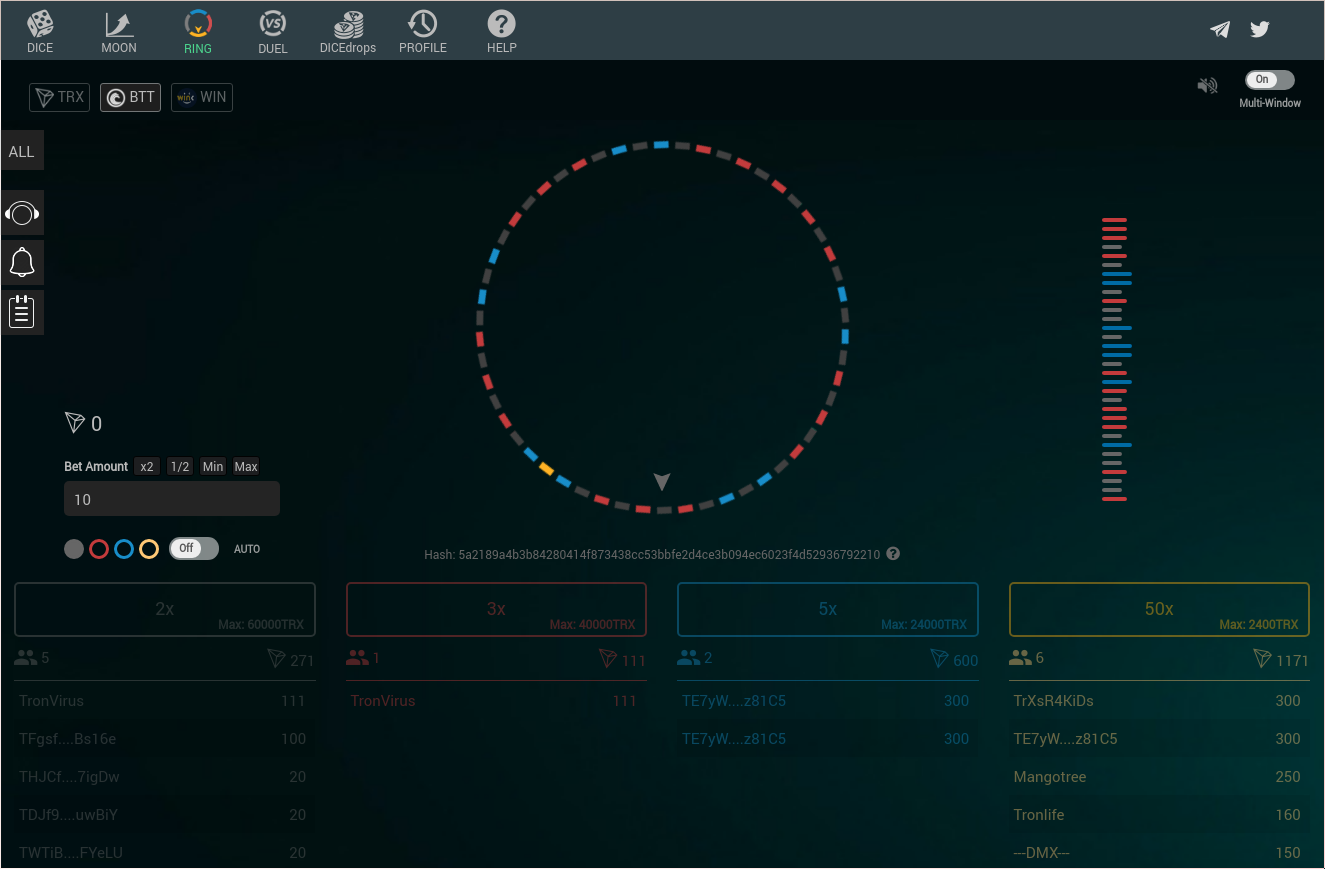 LIVE GAMES
I wanted to reserve the most amazing aspect for the end because this is what made me think of how great the TRON blockchain is and how there's a community of developers that want this ecosystem to grow. Live games are Casino games that can be played real-time with real dealers, powered by the platform Ezugi. WINk, via Live Games, offers users an overly improved user experience. The fact that you can play real-time with other users, just like in a real casino in Vegas, is an example of what is making Tron the preferred blockchain to play games. Tron can also theoretically process about 2,000 transactions per second with almost fee-less transactions, without taking into account network enhancements which are currently in development.
The games you can play are Blackjack, Baccarat, Roulette, Poker, and Lottery. You can also place bets on multiple sports as well as on e-sports.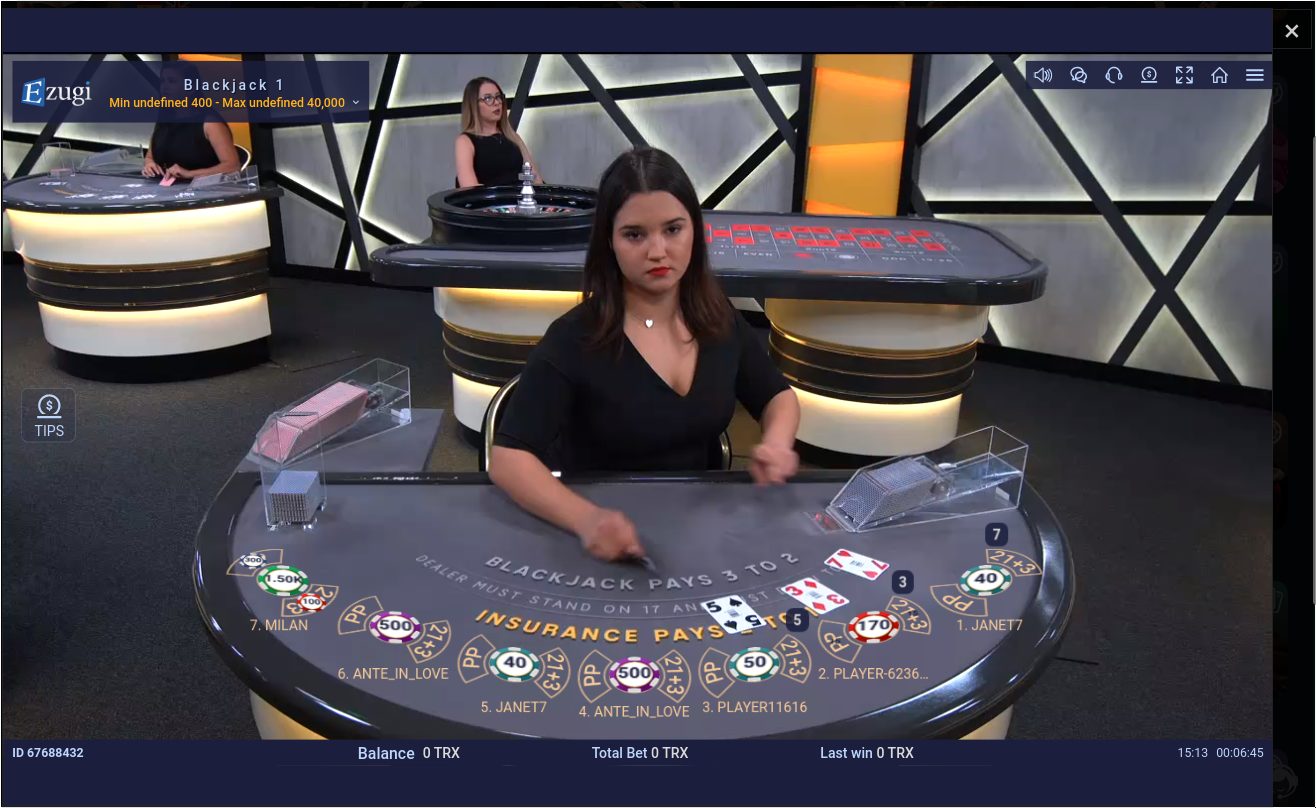 The Protocol's Sunny Future
As a DApp developer on the Tron blockchain, I can say with confidence that the system is robust and works amazingly fast. It has great support from the official community which also facilitates the learning process. I mentioned before that the MainNet could process 2,000 transactions per seconds, but that will be nothing compared to when the Sun Network launches as it is supposed to boost up transactions by 100x times. This means that Tron is the fastest blockchain in the whole crypto space with provable real life application and the one that is taking the big steps to massive adoption. Two thousand transactions compared to the poor performance of Ethereum is a huge difference. Projects such as FUN, which used to be the gambling darling on Ethereum, needs to overcome these transaction hurdles in order to even survive. They should have ported to Tron when they had the chance. In terms of transaction per second, Tron will soon surpass VISA. That's a big deal.
AN OPPORTUNITY FOR DEVELOPERS AND CREATIVITY
WINk will open a series of APIs in order to integrate more games to the platform. New games must pass a verification in order to be listed. This is a great opportunity for developers on the Tron blockchain as you can take advantage of this big platform and actually profit from it. WINk keeps a percentage of your earnings as is expected. Nonetheless, it seems like a good trade off. You are on the premiere gaming blockchain and most of the leg work, such as marketing, will be done by WINk.
DISCLOSURE: This article is for information purposes only. This is not financial advise nor do we encourage gambling. You should manage your funds at your own risk. Tron Spark is not responsible for any lost funds. All of the games mentioned above are provably fair, meaning that there's no way a centralized authority can hack or change results to a desired way, instead, users can verify each result. Nonetheless, one thing is certain, the house always wins!
Comments