As with any investment, it is very important to weigh your options. Would I tell you to invest in crypto because it is the future? Yes. Would I tell you to bet the house on it? Definitely not. Although I personally believe that cryptocurrencies will be a vital part of society going forward, there can be many things that can prevent that from occurring. In the financial world, I have been around long enough to know that nothing is for certain. With regards to cryptocurrencies such as Tron, I have always told people to invest only whatever they are willing to lose. This is new technology, technology that has to overcome regulations from the powers that be. We all know that is an uphill battle. But on a positive note, I do believe the genie is out of the bottle and there is no way of putting it back in.
Cryptocurrencies are currently very volatile assets which may not be suitable for everyone. Their price can fluctuate thousands of percentage points. That is not an easy thing to stomach for the average Joe. As a long term HODLer, I've had my portfolio go up 2000% to then get smashed by 90%. 
"I have had my portfolio go up 2000% to then get smashed by 90%.

The 2017-2018 crypto cycle
But I understood this when I first got in. It is a high risk high reward proposition with many coins possibly being outright scams. This is where due diligence comes into play. I do like to hear what YouTubers have to say about any given project but I also take it with a grain of salt. In fact, I found Tron because a close friend told me about it resulting in me 
researching the team behind it
. In fact, this link is actually the one that sold me on this blockchain project. I follow the money.
High Risk High Reward
Once you have made up your mind that you want to put your money in cryptocurrencies, and you have accepted the inherent risk that comes with the disruptive new technology, you can then find that project that you believe will solve a problem in the world we live in. If you want a blockchain solution that focuses on cross-border transactions, then you would probably go with Ripple. If you want a project that will have the largest social reach, you would then probably go with Tron. There are many projects that can possibly improve many aspects of society as a whole.
Comparing cryptocurrencies with the stock market is also something everyone does. In the stock market, having a return of 15-20% on any given year is an amazing feat. In cryptocurrencies, a 15-20% yearly gain would be seen as a complete failure. Well, maybe not this year. At some point, I do expect the crypto market to stabilize to similar gains as the stock market. But being in its infancy, and being a disruptive technology, one would expect explosive growth similar to what the Nasdaq experienced in the 1990s. And probably much more.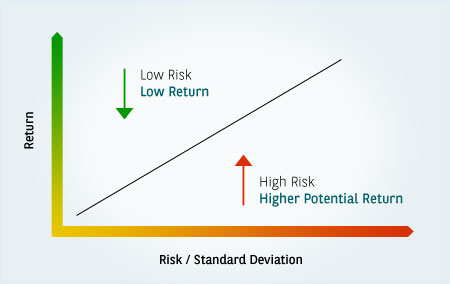 High Risk versus Low Risk
If you believe in the future of cryptocurrencies, and you think the market has reached a bottom, then this may just be the best time to get involved. Looking at the opposite end of the risk-reward spectrum, you have a CD. With a CD, you essentially tie your money for a fixed amount of time and earn an interest rate on that money. The good thing about a CD is that your money is safe. The bad thing is that the current return, post the 2008 economic collapse, is probably not enough to offset inflation. Now, with respect to TRX, this is something I find very interesting.  Even if the price of TRX remains the same, by voting for many of the Super Representatives, you can actually get a rate of return much higher than a bank CD. This is especially interesting if you think the price of TRX has reached a bottom.
Below are the highest CD rates I have found online. Feel free to do your own search.
You see my point? Using the Tron Spark calculator, an SR giving 70% in rewards with 230 million votes will end up paying out 5.4% in TRX each year. Of course, this number will change as more people realize this benefit. Also, compounding your trx rewards can also increase this number. Now imagine we are right and TRX has hit a bottom. The gains can be huge once TRX starts to move up in price.
Super Representative Rewards Payout
Most Super Representatives are giving out rewards to their supporters as a token of gratitude. Here is a nice tool that was created by TokenGoodies. You can use this tool to see which Super Representative is giving the largest rewards. Very useful if you are only interested in rewards. But, I do want to tell our readers that rewards are not everything. I urge our readers to research each SR and vote for the one that they feel will provide the most long term value for TRX. For Tron Spark, that long term value is derived from the content creation and distribution platform that we are creating in order to spread the word about Tron.  Please see my other article which has all 27 Super Representative websites linked to it.
A TRX Decision
Tron has now been around for approximately one year. It has overcome many critics and has delivered on time on all of its promises. This is not something to take lightly in the crypto world. It has made huge partnerships and has acquired tactical monsters such as Bittorrent. Tron has performed. There is no question about that. Now, is TRX a good choice if you are interested in getting involved with cryptocurrencies? I leave that decision up to you as I am not a financial advisor. Regardless, I made that choice for myself way before any of these deliverables came to light.
Comments